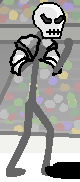 Death's Minions
are, as they're name implies, the minions of
Death
.
Appearence And Location
Edit
They appear in an arena with a bunch of people watching in the background. They are all seen behind their leader, Death, before they charge at Electric Man. They resemble skeletons and are the color gray.
Frequency
Edit
Easy: 8
Normal: 9
Pro: 10
Besides Death and Electric Man, they are the only known characters to make it to the Championship.
It is unknown if they were Death's hench-men before or after he became the champion.